State Disaster Management Authorities are statutory bodies constituted under the Disaster Management Act, 2005 (Central Act 53 of 2005). Kerala State Disaster Management Authority is a statutory non-autonomous body under the Chairmanship of the Chief Minister of Kerala.
The portfolio of Disaster Management in the State of Kerala is held directly by Hon'ble Chief Minister vide Notification No. Pol-5/21/2023-GAD dated 30-1-2023
The first KSDMA was constituted vide S.R.O No. 395/2007 dated 4th May 2007. Present composition of KSDMA is notified vide S.R.O No. 583/2013 dated 17-7-2013. Vide Section 3 of the Kerala State Disaster Management Rules (KSDMR), 2007 the authority is composed of ten (10) members, chaired by Chief Minister and convened by the Additional Chief Secretary, Revenue and Disaster Management. The Chief Secretary (inter alia Chairperson of the State Executive Committee) is the Chief Executive Officer of KSDMA vide Section 14 (4) of the DM Act, 2005. Head of Kerala State Emergency Operations Centre is vide Section 3 (4) of KSDMR, 2007 (amendment 2015) the Member Secretary of the Authority.
Commissioner, Disaster Management is the Head of the Department of KSDMA vide GO (Rt) No. 772/2020/DMD dated 1-10-2020.
Routine decisions related to the functioning of KSDMA, as under the Disaster Management Act, 2005 is conducted as per the decision of the State Executive Committee by the Office of KSDMA. Technical matters and emergency operations are managed by Kerala State Emergency Operations Centre (KSEOC).
Moto of KSDMA
In English – "Towards a Safer State"
In Malayalam – "സുരക്ഷായനം…" (Surakshaayanam)
KSDMA Logo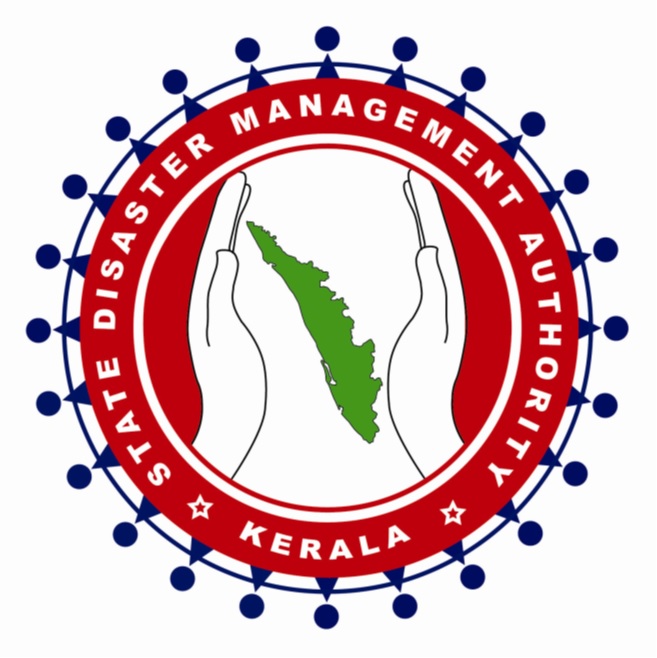 The logo of KSDMA was adopted through an online design competition in 2011. The logo embodies the vision of disaster management as a collective effort with 24 spokes depicting the need to be on constant watch, round the clock. Kerala is depicted in green within the palms to remind that Kerala is green and its constant and watchful preservation is that which will ensure a Safer State.